The Role of Nurses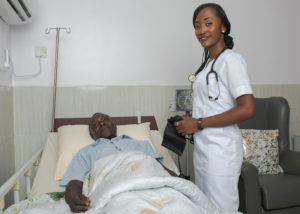 A spinal cord injury involves damage to any part of the spinal cord or its nerves and this damage causes changes in strength, sensation and other functions below the level of the injury.
Treatment of spinal cord injury at our in-patient neuro rehabilitation home in Abuja can take many forms with being conservative requiring rest and exercises while others require surgical intervention. Most of the time, nurses are involved in the care of Treatment of Spinal Cord Injury in Nigeria and below are a few of the nursing duties or care plan PhysioCraft nurses are use during the treatment of spinal cord injury patients in Nigeria.
Breathing and Respiratory care: Especially for clients with cervical level injury and some thoracic injury where there is associated injury to the rib-cage, the goal is to ensure the client can breathe appropriately without respiratory distress and to avoid respiratory compromise. PhysioCraft nursing care during treatment of spinal cord patients injury in Nigeria involves knowledge of mechanical ventilator, (including  home use), maintaining a patent airway, keeping tracheotomy tube clean, helping with coughing, suctioning and administering oxygen if necessary.
Constipation management: constipation has to do with difficulty in passing stool or incomplete passage of stool, a frequent complication of spinal cord injury. Different things cause constipation after spinal cord injury such as change in nerve supply, reduced mobility, gastric bleeding because of medication and so on. PhysioCraft nursing care plan for treating spinal cord Injury patients in Nigeria includes encouraging intake of well-balanced diet with bulk and roughage planned by our registered dietitian, listening for bowel sounds, checking for impaction of stool, establishing regular bowel program, management of naso-gastric tube and PEG feeding, administering rectal tubes and medications as required.
Urination and Bowel Movement: Impaired bladder and bowel function is also another occurrence we often encounter during can our treatment of spinal cord injury in Nigeria. PhysioCraft nursing care plan includes close monitoring of urination and stooling pattern, palpating for bladder distension, monitoring fluid intake, observing the urine for colour or discharges and also bladder training protocol.  Our nursing protocol minimises the risk of urinary tract infection, a common occurrence in spinal cord injury.  Also required during the treatment of spinal cord injury patients in Nigeria is the need for different types of catheters which depends on each individual client.
Skin Care and Pressure Sore Management: The reduced mobility, changes in body temperature regulation, altered sensory perception and underlying medical conditions can contribute to the risk of skin breakdown and pressure sores. To minimise this, the nursing care plan includes but is not limited to frequent and thorough checks, applying the correct ointment depending on skin type and background condition of individual client  and appropriate wound care measurement where necessary.
Feeding and Nutrition: After a spinal cord injury, feeding method and nutrition needs of client may change. Some people may need to use tubes for feeding, giving medication, decompressing the stomach when there is excess gas, or removing food when there is problem with digestion. Also, some people need to loose weight, others need to gain weight and some just need maintenance. Our registered dietician works closely with the medical and rehab team to plan appropriately for each client. The PhysioCraft nursing team has extensive experience with different types of tubes ranging from temporary ones like naso-gastric tubes and oro-gastric tubes to more longer term ones like J-tube, G-tube or the PEG (Percutaneous Endocopic Gastronomy).
These are just a few examples of the role our nurses play in the treatment of spinal cord injury in Nigeria at our in-patient neurorehabilitation home in Abuja.
If you have questions, you can schedule a visit or tour of our facility in Abuja by calling 08188086900 or 08035670888. Our clients come from all over the country to use our in-patient neurorehabilitation facility in Abuja.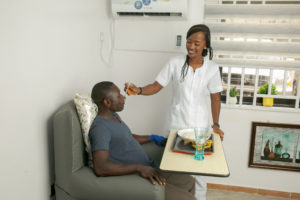 #spinalcordinjury # treatmentofspinalcordinjuryinNigeria #spineinjurytreatment
#rehabhomeinnigeria #brokenback #PEGfeedinginNigeria #spinalparalysis #inpatientphysiotherapy #neurorehabilitation